Bracknell, UK 17 February 2012:
Panasonic Computer Product Solutions today announced that Red Bend Software's market leading Mobile Software Management (MSM) solution will be available to customers of its new professional-grade Android-powered Toughpad tablets. This will give Panasonic, and Enterprise customers electing to use this solution, ground breaking capabilities to remotely and securely manage their Toughpad devices over the air. To date, Red Bend's MSM solutions have been shipped in over 1.4 billion mobile phones, tablets and connected devices.
Panasonic's Android-powered Toughpad tablets include the unique security core in the Marvell® ARM-based CPU, which, when combined with Red Bend's innovative software management solution, creates a compelling and secure mobile computing platform. Protected areas of the flash memory that hold the operating system kernel and customer applications are held in a secure zone by the Marvell security processor. Only authorized users of the Red Bend management software can then access firmware and applications within the secure zone. This robust and standards-based solution enables business customers to easily remotely manage the software on their Toughpad devices whilst ensuring that the devices, and any of their enterprise applications, remain highly secure and tamper-proof.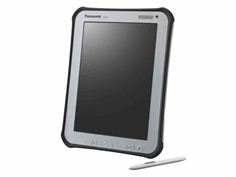 Panasonic Toughpad
Red Bend's MSM solution for the Android-powered Panasonic Toughpad range will include vRapid Mobile® for Firmware Over-the-Air (FOTA) updating, vDirect Mobile® for Device Management and Application Management, and the Red Bend Software Management Center. From Autumn 2012, the Red Bend solution on the Panasonic Android-powered Toughpad tablets will also be the first to use the advanced OMA DM software management standard, SCOMO (Software Component Management Object), even further reducing time and network costs for updates. SCOMO is a new standard for Mobile Software Management that modularizes the entire software stack and allows deployment of discrete software components, either updated or new, including embedded firmware.
With Panasonic Toughpad tablets, Enterprises electing to use the Red Bend MSM solution will have the capability to manage their own applications independently from the tablet's firmware. This includes being able to deploy, remove and update any application efficiently and reliably over the air. In addition, Panasonic will be able to deliver continuous software improvements to its Enterprise customers, including keeping the Toughpad up to date with the latest Android version. The solution uses Open Mobile Alliance Device Management (OMA DM) industry standards.
The solution will also allow Panasonic Toughpad customers to use other Mobile Device Management programs if they wish.
The Red Bend MSM solution, which performs software management over wireless connections including 3G, 4G and Wi-Fi, is location- and network-aware and enables the most efficient and reliable software updates. Red Bend's technology is proven to create the most compact software updates, reducing update file size by up to 97%. This means Enterprises can significantly reduce their telecom data charges when deploying new and updated applications over the air. In addition, Enterprises can control when and how updates are performed, and can deliver large updates over Wi-Fi or prevent updates when roaming. The software update packages are assembled on-the-fly and tailored to each device based on the software already installed on the device, ensuring that only the minimal required updates are included.
Red Bend's Failsafe™ feature guarantees the update to complete even in the event of a disruption such as loss of connectivity or battery failure. This technology has been used to perform hundreds of millions of software updates worldwide with a 100% success rate.
With the Red Bend MSM solution, each of the Enterprise's Toughpad applications can be managed and updated one at a time, or in combination, as the Enterprise chooses. The Enterprise can also deploy different application packs based on the unique profile of the end user, such as workgroup. In addition, the Red Bend solution manages dependencies between applications and firmware, ensuring each end user gets the correct software package to support its Enterprise applications. Enterprises can also ensure that their own applications are protected so that the user cannot uninstall them.
Stephen Yeo, European Marketing Director at Panasonic Computer Product Solutions, said: "This combination of rugged Panasonic hardware, the hardware-protected firmware architecture and Red Bend's advanced management software has created an incredibly powerful Enterprise-capable platform for our business customers. Our approach means that businesses will be able to deploy our Android-powered Toughpad computers to their mobile workers with world-class Enterprise software management and security capabilities."
Lori Sylvia, Executive Vice President of Marketing at Red Bend Software, said, "Since 2010, Red Bend has partnered with Panasonic to provide over-the-air software updating and management capabilities and we're extremely pleased to extend our collaboration now to Panasonic's professional grade Android-powered Toughpad series. Once again, Panasonic is demonstrating its leadership by delivering a ground-breaking solution for Enterprise Mobility."
As well as the Red Bend MSM solution, Panasonic will also be offering its Toughpad Enterprise customers access to a Toughpad App Store, a choice of software to configure Toughpad hardware settings and technical professional services to assist with any custom application development and deployment.
See the Red Bend and Panasonic Toughpad Solution working at Mobile World Congress 2012
Red Bend and Panasonic will be showing the Panasonic Toughpad FZ-A1 running the Red Bend MSM solution at Mobile World Congress 2012 Barcelona (suite number 4.3H S50).
For more information on the Panasonic Toughpad FZ-A1 Android-powered tablet, go to:
www.toughbook.eu
Ends