Clear Channel Singapore & Tapit announced that they have partnered to create a whole new Out-Of-Home (OOH) advertising network using Near Field Communications (NFC) on the 10th October 2011. The new NFC network adds to Clear Channel's current PLAY offerings of digital and mobile offerings including QR codes, Wi-Fi and Bluetooth enablers, SMS, MMS and Augmented Reality campaign boosters.
Clear Channel Singapore – in collaboration with mobile technology provider Tapit is poised to be the first in the media market with an island-wide network of 6-sheet, 12-sheet and Media Portal panels at choice mobile-enabled bus shelters. By enabling existing street furniture with Tapit technology, Clear Channel empowers advertisers with an ability to engage people on-the-go. The mobile network goes live in November as part of Clear Channel's PLAY portfolio, for Media Agencies to start scheduling their innovative brand campaigns. Clear Channel will share a content development model with Tapit and other providers which will see to the transformation of creative briefs into experiential and engaging campaigns powered by future placing technologies like NFC, allowing advertisers to mine actionable consumer data such as number of users, response rates, etc.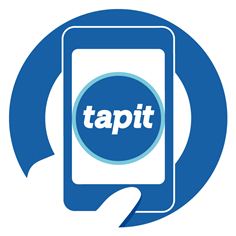 Tapit Logo
The pioneer network built by Clear Channel and Tapit will enable 300 of the most influential sites across Singapore. People will simply need to tap on any one of the advertisements to receive music, videos, applications, brochures, etc. directly to their phone. Clear Channel Singapore is positioning this network as a test bed and case study for the rest of Clear Channel International.
"This is a massive opportunity for us and what we believe will be a step change for Out-Of-Home. For the first time, Advertisers can combine the traditional power of the Out-Of-Home medium with real activation and engagement on a broad scale, driven by the technology device of the 21st Century – the mobile phone. What we have developed with Tapit will enable brands to build on the mass reach, frequency and efficacy that Clear Channel Singapore already delivers, and actively engage with their customers. Our NFC-enabled network will enable consumers to interact and engage with brands, acquire detailed and relevant content on your own terms. Just one tap with your phone, and a whole new avenue of engagement opens up to you – you can access websites, engage in social media, obtain vouchers, download content, etc. The opportunities are endless."
Adam Butterworth, CEO, Clear Channel Singapore.
Jamie Conyngham CEO of Tapit said
"Clear Channel Singapore comprehensively reaches the majority of Singaporeans while they are using public transport and generally, out and about. It is unbelievable the OOH dominance Clear Channel has in Singapore, this enables us to conduct some really special and innovative campaigns."
Clear Channel and Tapit expect the growth in NFC enabled handsets to be unprecedented. Already there have been launches of NFC handsets by Nokia, Samsung, Google, Sagem, Rim, Huawei and all the other major OEM's are expected to launch NFC handsets at some stage over the next 9 months.